The Venue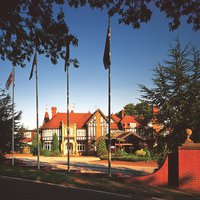 The 2018 Convention will be taking place in the idyllic atmosphere of Chesford Grange in Warwick, a four star hotel built from an old manor house dating back to the 1900s, set in grounds adjacent to the river Avon.
Chesford Grange is on the outskirts of Kenilworth and a short drive from Royal Leamington Spa and Warwick Castle, and is easily accessible by car or by a short taxi ride from the nearby train station in Royal Leamington Spa.
There will be free parking for members at Chesford Grange, as well as discounted food, drink and hotel accommodation. We will also be offering camping on-site.
Directions
Chesford Grange is on the outskirts of Kenilworth and a short drive from Royal Leamington Spa and Warwick Castle, and is easily accessible by car or by a short taxi ride from the nearby train station in Royal Leamington Spa.
By train
The nearest train stations are Leamington Spa (LMS - 8 miles) and Warwick (4 miles). Local taxi firms can provide a one way trip from Leamington Spa train station from about £12. Public transport options from Warwick are limited, and most will take you via Leamington Spa train station, where the X17 and X18 buses will take you within walking distance of the hotel.
By air
The nearest airport is Birmingham International Airport, which is 18 miles from Chesford Grange, and a direct train service is available from the airport to Leamington Spa. A service to Warwick is also available via Leamington Spa.
Driving
For the benefit of your sat-nav, the full address of the hotel is:
Chesford Grange Hotel
Kenilworth
Warwick
CV8 2LD
From the South
Leave the M40 at Junction 15. Follow the A46 towards Coventry and take the slip road signposted Kenilworth and Leamington Spa (A452). At the roundabout, take the right exit signposted Leamington Spa. Continue for 400 yards and follow the signs to the hotel.
From the North
Due to roadwords, we recommend taking a slightly different route than we originally published:
At Junction 21 of the M1, follow the M69 towards Coventry and join the A45. Take the first junction off and join the A46 towards Warwick. Take the exit marked A429 towards Warwick. Follow the B4115. Chesford Grange will be on your right after about 1.4 miles.
 
Parking
Chesford Grange are providing free parking for resident and non-resident Convention members for the duration of the convention.
Short term parking
Short term parking is located close to the hotel. This is specifically for use if you are only staying for a short time, need to load or unload your vehicle, or have accessibility needs.
All other parking
Whether you are intending to stay for the duration of the Convention, or attending each day as a non-resident, parking is available in a dedicated carpark a 5 minute walk from the hotel. This is accessed via a separate entrance. If you need assistance walking from the carpark, help will be available. It is possible that the cars of those who indicate they are staying for the duration of the Convention, and are happy with the proposal, will be blocked in until Monday.
 
Facilities
Food and drink
We are still in the process of working with the Chesford Grange to ensure a range of catering options and to follow up on any issues which came up with catering at the previous Convention.
As it proved very popular last time, the tuck shop option will be available again throughout the day, and will offer a greater variety.
In addition, the restaurant will serve breakfast, lunch and dinner buffet menus.
Finally, we are working closely with the hotel to ensure that dietary requirements are met and adhered to. If you have any specific dietary needs, please contact the Hotel team to let them know.
Fitness Suite and Pool
Chesford Grange has a fully equipped fitness suite incorporating a range of cardio-vascular machines, free weights, a swimming pool and a steam room. Access to the fitness suite is included for all resident members, including those using the camping facilities.
Children must be accompanied in the pool at all times by a responsible adult.
Bar
A full licensed bar will be available on site providing a number of soft and alcoholic drink options. Coffee, tea and hot water will be available at a fixed price, and there will be a discount of 15% available on all other regular bar prices. And as always, we will have a selection of real ales and ciders arrange specifically for the Convention, sold at a fixed price.
Wi-Fi
Complimentary Wi-Fi will be available in all indoor public spaces to all guests and visitors.
 
Accessibility
It is of great importance that the venue and our hotels are as open and accessible to as many Members at any Discworld Convention as is possible. Our Accessibility Policy helps to make sure you can participate in the events you enjoy, get around the venue with ease, and interact with the other members and our wonderful guests.
However, having an Accessibility policy is only half the solution - the other half is allowing people to know what preparations they may need to make. With that in mind, the Accessibility team have put together a comprehensive breakdown of the Accessibility specifications of both the Chesford Grange and the Woodland Grange hotels.